Can you find where all of the skyscrapers are?
Puzzle not found - please select a puzzle.
All Puzzles
Today's Puzzles
All daily items change at midnight GMT (UTC+0).
---
---
Objective / Rules
---
---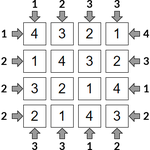 Complete the grid such that every row and column contains the numbers 1 to the size of the grid.
Each row and column contains each number only once.
The clues around the outside tell you how many skyscrapers you can see.
You can't see a shorter skyscraper behind a taller one.
Read the help / walkthrough page on Skyscrapers for the rules, a more detailed explanation, and a walkthrough.
Note: BrainBashers has a Dark Mode setting.