My name is Kevin Stone, I live in the UK, and I have had a love of puzzles for many years. BrainBashers has now been around for over 26 years(!), starting as Puzzles 4U in 1997, which became BrainBashers in 1998.
At the moment BrainBashers has 827 brain teasers, 219 illusions, 30 stereograms, 1,098 30 Seconds puzzles, 7,686 Daily BB Words, 1,831 mazes, 33 fun stuff items, and thousands of Japanese-type puzzles. That's a lot of puzzles - but have you found the hidden game yet!?
---
---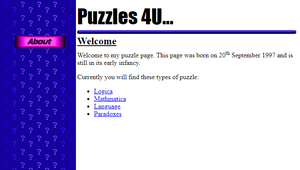 Puzzles4U - September 1997
The creation of the website that soon became BrainBashers. The first design was very simple but set the trend for blue for the next 13 years.
These dates are when the main look of the site changed, and each image represents the site during that phase.
---
---
BrainBashers - October 1998
12 months later and the design had to reflect the new name and the increasing content.
---
---
BrainBashers - September 1999
The first design by John Morton, as the internet was speeding up, graphics were the future. Many sections of BrainBashers began to have a proper home.
---
---
BrainBashers - January 2003
Another design by John Morton brought the site into the 21st century and set a look that would last the next 7 years.
---
---
BrainBashers - May 2010
This was a minor change on one hand, as the main content remained the same, but a large one on the other as the main blue on the left and top was removed. This brought the site up-to-date in terms of freshness, speed, and simplicity.
---
---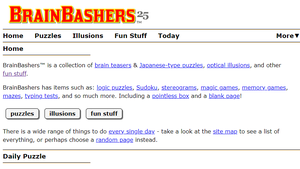 BrainBashers - September 2022
The site became 25 years old! The site was modified to make it much more friendly for mobile / cell phone users, and users with smaller screens. Accessibility was also improved, and Dark Mode was added.