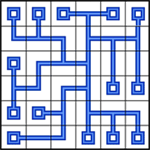 Daily Network

Can you rotate the squares to reconnect the network?
Click the link below to access the Weekly Special
Notes
Can you rotate the squares to reconnect the network? You have a network of computers that has been scrambled, rotate the squares such that every computer is connected to every other computer and every square is in the network.


Read the help/walkthrough page for the rules, a more detailed explanation, and a walkthrough.


Wrap vs No Wrap. If your network has Wrap, then the network wraps off the edge of the grid, right to left, bottom to top, etc.


The 6 x 6 Wrap puzzles are probably the most difficult Network puzzle.


Would you like a (free) Sudoku for a small, local, community newsletter. Or a monthly puzzle for your company's bulletin. Or a range of puzzles for your local newspaper? Or puzzles for a project of any size? KNS Puzzles was set up by my brother (Julian), specifically to provide commercial access to all of my content (current and old). If it involves BrainBashers puzzles, he will try his best to help. Take a look at my contact page for more information.