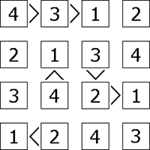 BrainBashers Daily Futoshiki

Welcome to BrainBashers Futoshiki. Futoshiki are logic puzzles with very simple rules.
Notes
Your task is to complete the grid such that every row and column contains every number exactly once. But you also have to satisfy the less-than (<) and greater-than (>) signs.


Read the help/walkthrough page on Futoshiki for a more detailed explanation and a walkthrough.


The Hard puzzles can be quite hard and often require the more advanced Sudoku techniques.